Government Solutions, Simplified with Sourcewell
Leverage the power of Cooperative Purchasing
Sourcewell satisfies the bid process for a wide variety of Aebi Schmidt Group's North America brands of snow and ice handling equipment.
If you are purchasing on behalf of a governmental, educational or nonprofit entity in the U.S. or Canada, or part of a Native American tribe, charter school, or public or private educational institution, consider using Sourcewell.
A full range of products for snow and ice handling are available from Swenson and other Aebi Schmidt North America brands under this contract. Equipment includes: snow plows, blades and wings; snow blowers; rotary brooms; salt spreaders and deicing sprayer systems; dump bodies, specialty equipment and hydraulic systems related to snow and ice equipment upfitting; and parts, supplies and accessories for upkeep, repair and maintenance of snow and ice handling equipment.
As a public sector or nonprofit employee or contractor, you know how time consuming and complicated the bidding process can be. Sourcewell helps simplify that process and provides your entity with competitive bids on new equipment purchases. If you're involved in making purchases for government on the local, county, state, regional or national level, or part of a qualifying nonprofit entity, Sourcewell satisfies the bid process.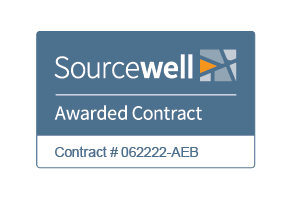 What is the Sourcewell
Sourcewell is a governmental unit committed to providing cooperative solutions for governmental, educational and nonprofit entities. Sourcewell offers a variety of cooperative programs and services for its members on a local, regional, state or province-wide and national scale in the United States and Canada.
Sourcewell establishes and provides nationally leveraged, competitively solicited purchasing contracts, under the guidance of the Uniform Municipal Contracting Law. Joint Powers laws enable Sourcewell members to legally purchase through Sourcewell awarded contracts.
Whether you refer to it as cooperative buying or cooperative purchasing, Sourcewell satisfies the bid process. As a member of Sourcewell, you can take advantage of Sourcewell bids on new equipment purchases.
Contact Information
The Sourcewell awarded contract for Swenson Products and Aebi Schmidt North America for Snow and Ice Handling Equipment, Supplies and Accessories is 062222-AEB.
How to get started
Membership of Sourcewell is free to qualifying government, educational and nonprofit entities. Visit their website for more information.